After the Solution Display, the Post-Solution Screen comes up unless you have previously hit the Continue button twice in short succession or there is something to congratulate you on, such as a level upgrade, new streak, record, or achievement.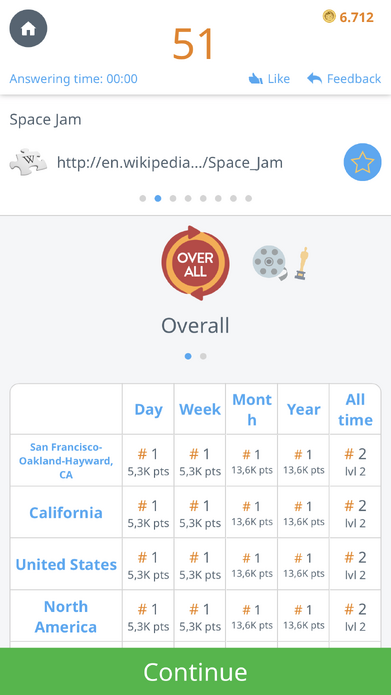 Top Section
The top section features a Home Button, a display of the number of points you just earned (the large number in the middle), a display of the number of coins you have in your account (top right), the time it took you to submit your answer, a Like button (which turns gray after you've already liked the question), and a Feedback button, which brings up the following popup: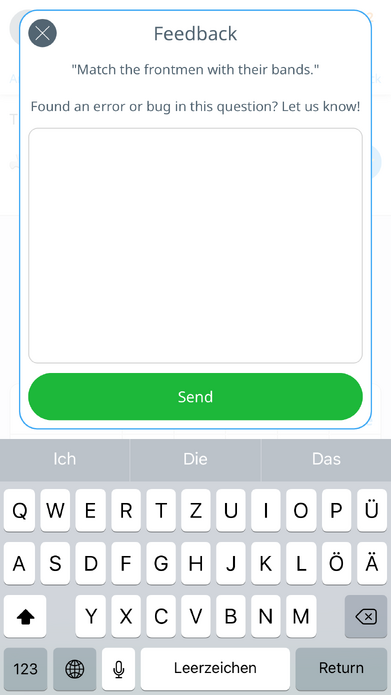 Post-Solution Information
The second section from the top provides textual information and links (most of the time those are links to Wikipedia, in which case the Wikimedia "puzzle piece" logo appears on the left side) related to the question and/or any persons, entities, concepts or things that formed part of the answer or were wrong answer options.
If there are multiple pieces of post-solution information, the display is paginated and you can scroll by swiping to the left or right.
The most important feature of the post-solution information section is the Bookmark Button:
When you tap on it, the star inside the circle gets filled out with a gold color.

All post-solution items of the question you just played are then added to your bookmarks, which you can later access via the Settings & More menu item on the home screen.
Topics
When you score on a Quizcover question, you always collect points in "Overall" (all questions from all topics) and, typically, in one or more other topics. The topics are shown as a paginated list. The icon of the topic you are presently looking at appears in color and in a slightly larger size than the other topic icons.
Ranking Overview
Below the topic list, you find an overview of where you stand in various rankings related to the topic selected above.
For the current topic of gameplay, that is a matrix of up to 5x5 positions.
For topics other than your chosen topic of gameplay, it's a column of up to 5 positions. That's because your "windfall" points (points that you collect even though it's not a topic you had chosen to play) are limited to all-time rankings. So your "windfall" points don't count for annual, monthly, weekly, and daily rankings.